The IBio Initiative
Wayne State University has launched a broad Integrative Biosciences Initiative (IBio) dedicated to research, discovery, education, training and knowledge application across a range of biomedical challenges. This initiative leverages a new 200,000 sq. ft. Integrative Biosciences Center at 6135 Woodward Avenue that houses coordinated, multidisciplinary research teams and programmatic initiatives involving translational thrusts focused on pathophysiologies and accumulated stressors affecting health in evolving urban environments.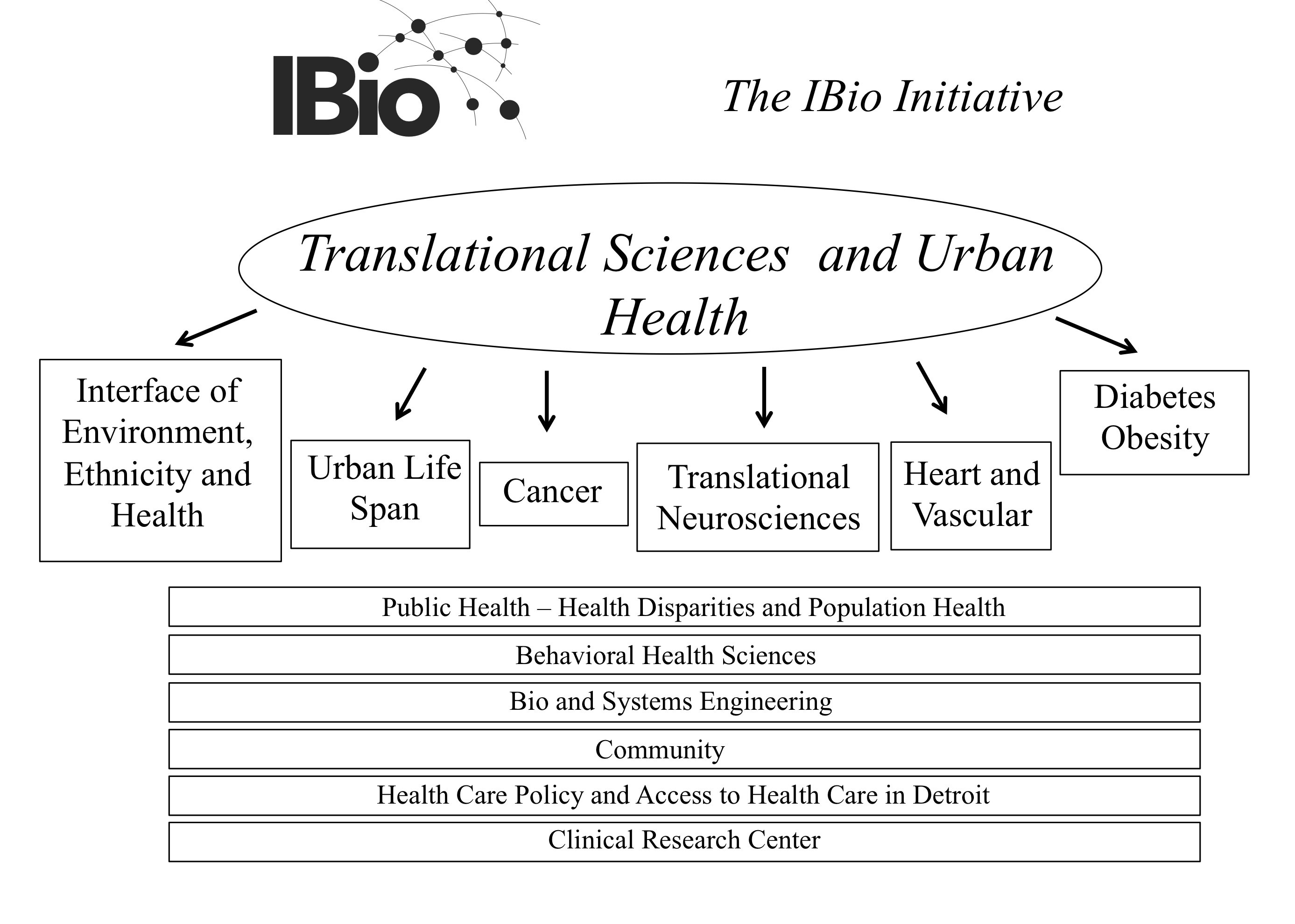 IBio serves as a home base for an Initiative in Translational Sciences and Urban Health as part of a broad institutional thrust in this area and in partnership with the City of Detroit and health care provider networks. Programmatic development focuses on five primary areas: Brain & Behavioral Health; Bio & Systems Engineering; Interface of Genes, Ethnicity, Environment and Health; Heart and Vascular Health; Metabolic Diseases (Diabetes and Obesity); and Health Disparities.  Each thematic focus includes basic discovery-driven research as well as translational, community and implementation sciences cutting across departments, programs, centers, and colleges. IBio includes a Clinical Research Service Center as well as the Center for Urban Responses to Environmental Stressors and established research teams from across multiple colleges, schools and disciplines.
The IBio initiative is not based upon a physical structure, but is a philosophy around thematic-based programs extending across campus with joint recruitments and programmatic development in various areas that cut across multiple departments and schools.
Healthy Urban Waters
The Healthy Urban Waters Initiative is a multidisciplinary research and engagement initiative with a focus on the health of the natural and built urban environment.  The program involves a broad range of expertise and platforms at the interface of community health and environmental health in the context of urban watersheds.
The Health Urban Waters Initiative addresses water-related ecological, economic, engineering and human health issues in the Great Lakes region that apply broadly to other urban areas. Multidisciplinary projects examine water use and management, contaminant fate and transport, technological innovation and environmental policy. Healthy Urban Waters researchers innovate technologies that advance the Blue Economy, Ecosystem Services, Watershed Health and Sustainability. Field Stations located along Lake St. Clair, the Detroit River and municipal water treatment facilities provide ongoing access to essential resources for "real-world" applied investigation and learning.
Dr. Carol J. Miller, professor of Civil and Environmental Engineering serves as director of the Healthy Urban Waters Initiative.  Dr. Miller is the US co-chair of the Great Lakes Science Advisory Board of the International Joint Commission, previous chair of the State of Michigan Licensing Board for Professional Engineers, and past chair of the Department of Civil and Environmental Engineering at Wayne State University. Key leadership personnel in Healthy Urban Waters include faculty and staff from the departments of Pharmaceutical Sciences, Biology, Physiology, Communication, Law, Urban Planning and others at Wayne State.